The BWF Shuttle Time University Course has been designed to offer International Certification to trainee teaching students, while providing the knowledge and support required to deliver fun, safe and enjoyable badminton lessons to groups of children aged 5-15.
Universities and Colleges can apply to the BWF to express their interest in delivering this course to students. The Shuttle Time University Course covers both theory and practical work and is delivered in a modular format. The course was developed in consultation with University Lecturers and Physical Education specialists, and can be broken down into 10 modules which all link to the Shuttle Time Teachers Manual and Lesson Plans. The course is most suitable for university and college students undertaking teaching, physical education and sports related courses.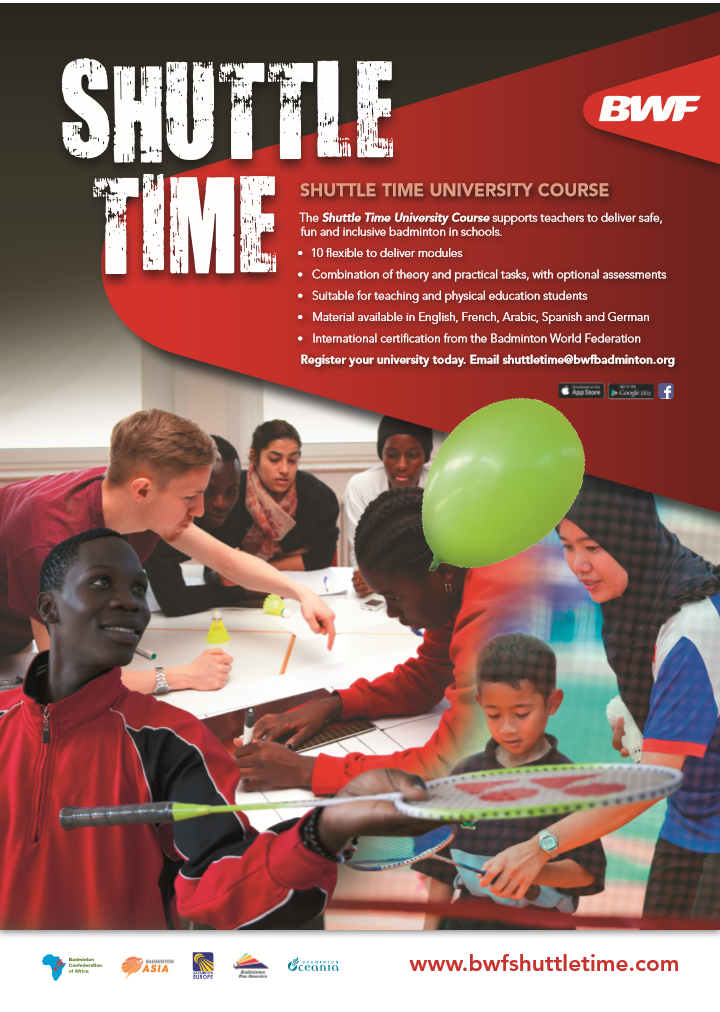 The duration of course is flexible and can be delivered in a variety of formats to suit the needs of the University, Lecturers and Students. Examples of the different ways universities /colleges have incorporated the Shuttle Time University Course are available in the Accredited Universities section.
University Course Modules
Getting Started and Feeding Skills
Managing Groups when Teaching Badminton
Physical Development, Benefits of Badminton
Shuttle Time Starter Lessons (1-6)
Shuttle Time Starter Lessons (7-10) + Swing and Throw Lessons (11-12)
Throw and Hit Lessons (13-18)
Learn to Win Lessons (19-22)
How to Organise a Competition
Theory Assessment
Practical Assessment
Source: http://bwfshuttletime.com/university-course
The course is run over 20 hours and will be delivered by a Shuttle Time trained tutor, who may also be a university lecturer. You will gain basic teaching skills as well as the specific badminton tools required to teach the sport.
Once you complete the course, you will receive an internationally recognised certificate of qualification from the BWF and have the chance to be added to UAE Badminton's roster of qualified badminton teachers.
So far, there are around 40 establishments world-wide registered with University Shuttle Time. Please fill in the form below to register your interest in the University Course program.
University Shuttle Time - Register Your Interest